The following section provides a brief history of our sport dating back to 2010 until 2019.
Years 2020 & 2021 will be updated shortly.
2010
The competition started with two teams being formed in 2010: the Eastern Sydney Stingrays (the Rays) and the Western Sydney Outlaws (the Outlaws).
They first clashed on 4 December 2010, which resulted in a draw of 24 all.
In the second game on 29 January 2011, the Stingrays won convincingly, with a score of 42 to 32.
But on 5 February 2011, the Outlaws balanced the books by taking out the game 28 to 14.
2012
By 2012, over 50 people with various types of disability and from all over NSW took the field to give their all in front of friends, relatives and loved ones.
Two extra teams formed in early February 2012 allowing representation from the North, South, East and West of Sydney – the Stingrays, Pirates, Outlaws and Cavaliers.
In September 2012, these teams played the first 7s competition for Physical Disability Rugby League.
NSWPDRLA Premiers 2012 – 2019
The Northern Sydney Pirates became Manly Sea Eagles and the Southern Sydney Cavaliers became South Sydney Rabbitohs.
NSWPDRLA Player of the Year 2012 – 2019
2019 was our last full season prior to COVID.
NSWPDRLA City vs Country 2014 – 2017
In 2014 our annual City vs Country clash in regional NSW started as a curtain-raiser for the NRL's now-discontinued City-Country fixture.
City is undefeated, having won the first three matches then drew with Country in their last game in Mudgee.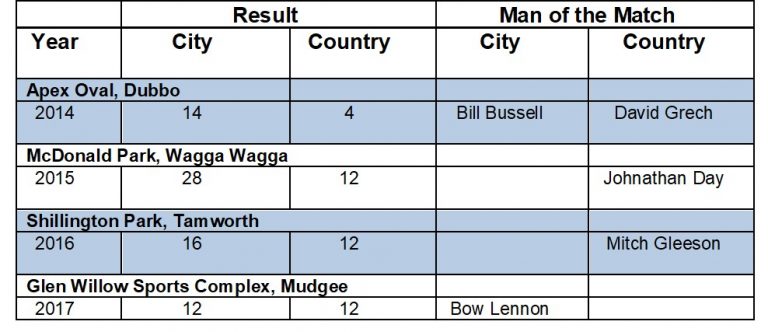 NSW Physical Disability Rugby League
Country vs City 2021>
Country vs City matches date back to 1911 with the best players from regional NSW taking on their counterparts from the Sydney metropolitan area. The concept was originally based on residency selection rules before becoming a pathway to represent the NSW team. It went into hiatus in 2017 before making a successful return in last year and it's great to have it back on the NSWRL calendar.
Robert Lowrie – NSWRL Head of Football (taken from the 2022 Representative Weekend Program)
NSWPDRLA NAIDOC WEEK GAME 2014 – 2019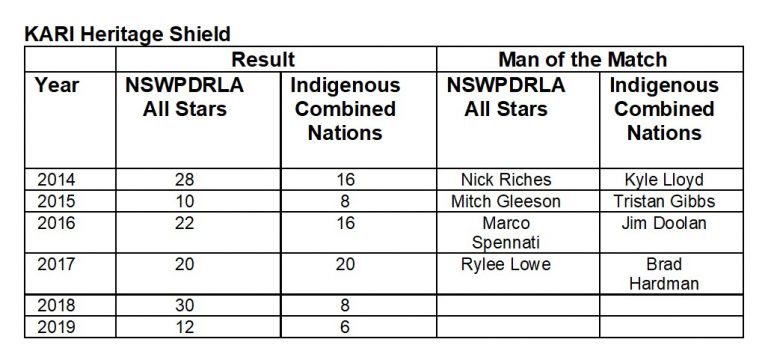 The KARI Heritage Shield has been held annually since 2014 and is competed by the Indigenous Combined Nations and NSWPDRLA All Stars sides.
It is usually held on the first Sunday in July in NAIDOC Week at Redfern Oval.