2022 NSWPDRL Premiership Winners
CONGRATULATIONS TO THE
PDRL SYDNEY ROOSTERS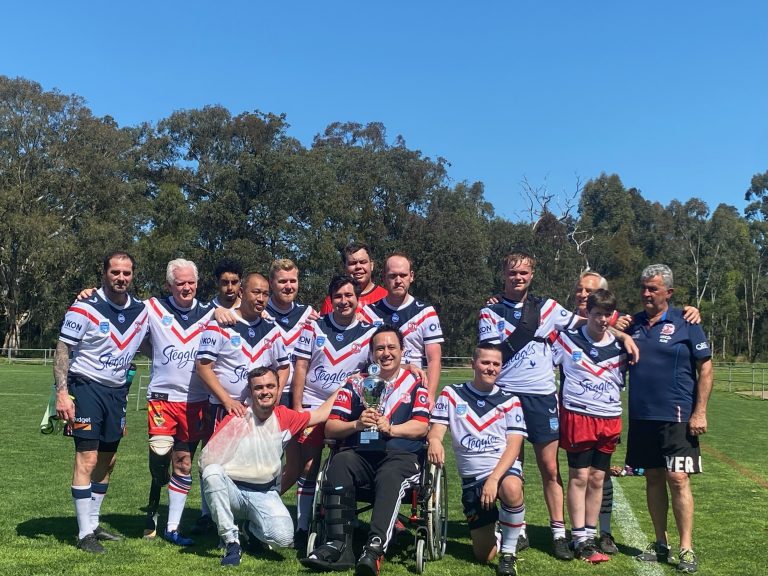 Sydney
Roosters 14
(Crane 2, Lowe Tries, Crane 2 goals)
South Sydney
Rabbitohs 4
(Tonna Try, goal)
MATCH REPORT
NSWPDRL Grand Final – Sunday 25 September, 2022
Following a tense arm wrestle, the Sydney Roosters (14) have defeated the South Sydney Rabbitohs (6) to be crowned NSWPDRLA premiers for 2022.
A brave Rabbitohs side led by try scorer George Tonna, with strong support from Peter Mitchell, Jake Vukobratovich and Jono Smith pushed the pace until the final whistle.
Despite the strong resistance, the Roosters were too strong. They were led by Captain Rylee Lowe, and off the back of a great team effort, we saw strong performances from rookie Hayden Coulton and Player of the Match Bryce Crane.
Well done to coach Aldo Spennati, Manager Trish Spennati and all other players, including veteran front rower Gary Kingi, who suffered a season ending injury in Round 5. Despite this, Gary was cheering his team from the sidelines and joined the post match celebrations.
The day capped off a fantastic season, our first since the Covid pandemic, which wouldn't have been possible without the support of so many people including: NRL, New South Wales Rugby League, NOVA Employment, EML, iCare and Harvey Norman.
Thanks to all!
Thank you to all our match officials:
Tony Des La Haras, Keith Povah, George Jankowski, Garnet Davies, Jason Waddell, Raymond Duong, Brett Davies, Barry Ruttle, Doug Keen