Physical Disability Rugby League has modified rules to enabling players of all ages and genders with a physical disability to play rugby league – to play the game they love!
Modified Rules
Games are played under modified rules of 'The Australian Rugby League Laws of the Game'.
How the game is played
The game is made up of two halves, each of twenty minutes and with a ten-minute interval.
As per NRL rules a Try will be worth 4 points and a Goal 2 points.
There are no scrums in the modified game.
An accidental knock on or drop ball is called as a tackle and at the completion of six tackles a change-over applies.
Modified tackle
Players wear either Black or Red shorts.
Players wearing black shorts will play the standard NRL tackle rules.
Red shorts are for –
players whose condition makes them unable to "tackle" or be "tackled",
female players and
players under the age of 16 years.
Support roles during the game
Able-bodied (AB) players can play in a support role on the field in physical disability rugby league.
But not more than two AB players per team are allowed on the field at any time.
A tackle is achieved on an AB player by touch or tackle.
Able-bodied players cannot –
run with the ball for more than 10 metres
score tries
kick goals or kick in general play.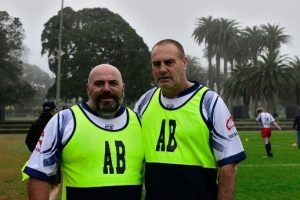 Two of the ABs who supported during the Indigenous Round in NAIDOC Week 2019 – 7 July
The AB on the right volunteered as an AB since PDRLA started until 2020.